A Rugged 4Runner Built for the Outdoor Life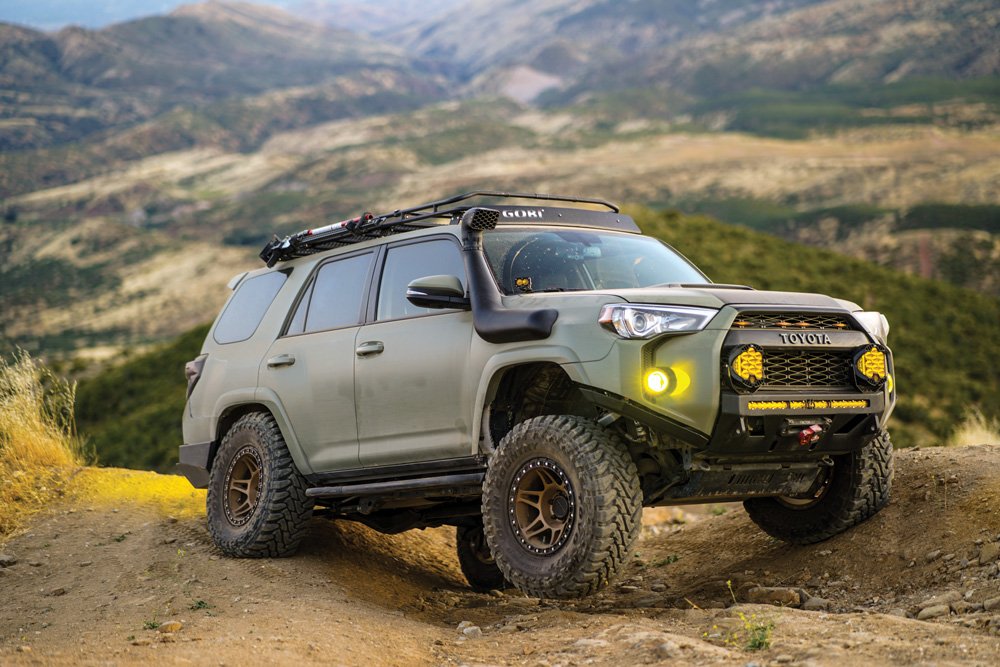 It's A Mad, Mad World
Those with a traditional office job may often daydream about their next outdoor adventure as they sit at their cubicle and behind their desk. Thoughts of being in the wild and out in nature swirl through their head as they impatiently wait for the weekend. For an outdoorsman like Daniel Mejia this wasn't the type of life he would settle for. Rather, his entrepreneurial spirit took over and he started his own landscaping business where he could be outdoors and make his client's oasis dreams come true. As an entrepreneur, Mejia has the freedom to make his own schedule, which creates more time for him to follow his passions for hunting, camping, and off-roading. A rugged 4Runner makes perfect sense for an outdoor enthusiast, like Mejia.
"I WANTED A VEHICLE THAT WAS 4WD TO GET ME ANYWHERE AND EVERYWHERE. I AM AN OUTDOORSMAN, FROM CAMPING TO HUNTING, SO I NEEDED A VEHICLE THAT WOULD LAST AND THAT'S WHY I WENT WITH TOYOTA. I WANTED TO GET LOST IN A TRAIL AND NOT HAVE TO WORRY ABOUT NOT BEING ABLE TO GET BACK."
Exit Fullsize to Enter Midsize
These passions led him to previously own a Ford F-150 with some simple modifications to help him on the trails. The truck bed came in handy to load up his gear and go, but the truck was only two-wheel drive, and Mejia had an itch to explore further into the unknown to find new fishing locations. He originally planned on purchasing a new truck, but while shopping he saw a brand-new Toyota 4Runner that caught his attention and he decided to make the purchase for the 4WD SUV from a dealership in Las Vegas. In the span of two years, he's accumulated 20,000 miles on it—which for a weekend vehicle is impressive.
"I wanted a vehicle that was 4WD to get me anywhere and everywhere. I am an outdoorsman, from camping to hunting, so I needed a vehicle that would last, which is why I went with Toyota. I wanted to get lost in a trail and not have to worry about not being able to get back."
Modifications Begin For The Rugged 4Runner
Immediately, as he got home with his new truck, he began researching on what his first upgrade would be and decided that the suspension needed an upgrade and would benefit the truck the most. Within two weeks of owning the truck, it received the first of many modifications.
"The comfort of a good suspension does not compare to stock form." He decided on an Icon Suspension Stage 6 system that would provide increased wheel travel and ride quality with adjustable coilovers that produce up to 3.5 inches of lift height. He knew that he would need the clearance to reach the destinations he had in mind with his rugged 4Runner, which would require various terrain, including large rocks. This was the first upgrade, and while he loves the setup, he feels he can still improve on it and plans to upgrade the suspension even more in the future.
"The most challenging part for me has to be not knowing when to stop upgrading it. Next I'm going to change my whole suspension to an extended long travel system."
Suspension, Wheels & Tires and More
The new suspension provided clearance for a larger wheels and tires package. He chose Toyo Tires Open Country M/T tires in a 315/70-17 for their quality, durability, and performance to wrap the 17-inch Method Race Wheels 106 beadlock in a bronze finish.
"MOST OF THE PRODUCTS I CHOOSE ARE WHAT I LIKE FROM THE OTHER 4RUNNERS. I DON'T GO FOR THE BRANDS AND THIS IS THE REASON WHY ALL MY ARMOR IS DIFFERENT."
With the larger wheels and tires, Mejia knew it was a good idea to re-gear his rugged 4Runner to put less stress to the axles and help improve the top speed, fuel efficiency, and performance. He opted for the Nitro Gears 4.88 package. He also upgraded to an ARB Air Locker system to help tackle any terrain with maximum traction; for extra power and performance he added a K&N air filter, Borla exhaust, and Pedal Commander throttle responder. Despite how well the truck currently performs, Mejia is still looking to get more power out of it and may be installing a supercharger down the road.
Safety First
To keep the truck safe from the rugged trails that he sought after, the decision was made to add armor. He turned to C4 Fabrication for their front bumper with side additions and a differential skid plate, as he didn't want to change the overall look too much with a larger and more-aggressive style bumper. "I went with C4 Fabrication low profile with side additions to keep the stock lines look and still have the added protection and clearance for getting a better angle approach over obstacles," Mejia explains.
Coming from a fullsize truck with an empty bed for storage, he quickly realized that additional storage space was needed to haul his gear. He added a Gobi full roof rack to provide the additional storage space he required for his journeys.
After a trip to Big Bear and his first rock crawling experience in the new 4Runner, he realized he would need more clearance and protection. On one trail he found that his rear was too low and with the rugged 4Runner being long, the rear bumper would drag, so to alleviate this issue he added a Brute Force rear bumper combined with Southern Style Offroad rock sliders. And protecting the undercarriage are BudBuilt skid plates. Mejia says, "Most of the products I choose are what I like from other 4Runners. I don't go for the brands and this is the reason why all my armor is different."
Light it up
Next on his list was the need for more illumination, as he found himself out into the evening and wanted better visibility. This came with some trial and error as he originally started with a 32-inch light bar on his bumper and a 40-inch bar on his roof rack, but he came to find that he hated the glare that would reflect off his hood from the light bar affixed to the roof rack of the rugged 4runner. He wanted something brighter and positioned lower on the vehicle. He changed the previous lights to a collection of Baja Designs Pro Series lights, including two LP9 Pro Spot, two Squadron Pro Wide Cornering, four S2 Pro Combo Pattern lights, and an S8 30-inch combo driving light bar—all in amber. The lights are controlled by a Switch Pros 9100 controller. Everything is powered via a Group 34 Odyssey battery mounted in a Rago Fabrication battery box. "I highly recommend them. The amber cuts through dust and everything is visible with my setup at night," Mejia says.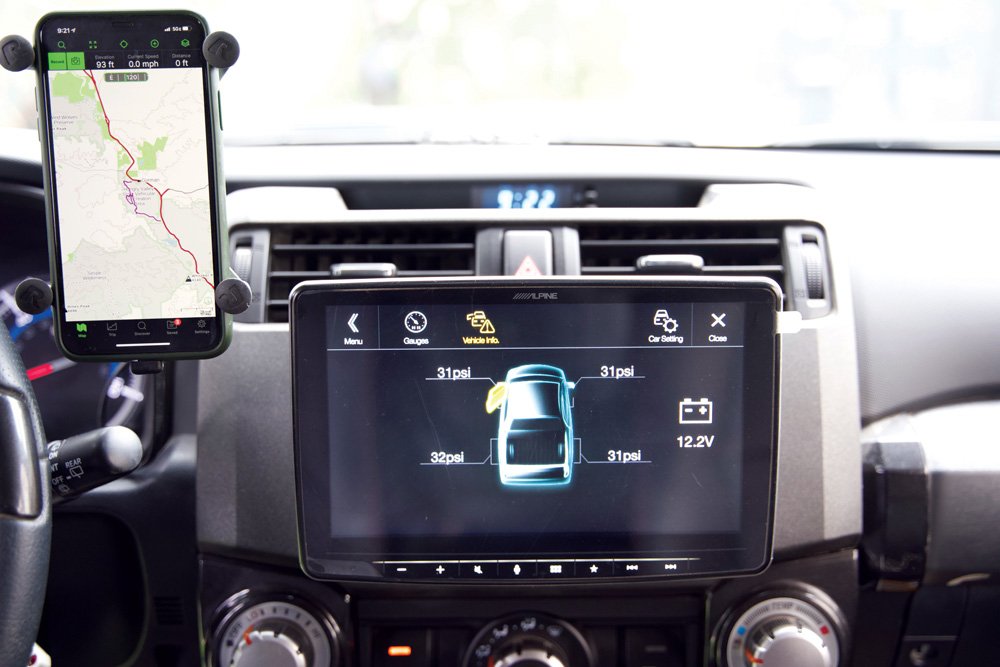 As Mejia is often traveling in the unknown where anything may happen, he loaded his vehicle with the proper equipment to get him out of tough spots, including a Smittybilt 9500 winch. Additionally, he equipped himself with a Factor55 ultra hook, tow straps, ARB TRED Pros recovery boards, and a Pro Eagle jack.
With the amount of rock crawling and exploring he does, Mejia is always prepared with a Power Tank CO2, and a backup, on-board ARB dual air compressor, to air up after airing down on the trails.
The rugged 4Runner is not without its state-of-the-art technology and has been outfitted with an Alpine ILX 309 Halo navigation system with an iDatalink Maestro module that has the ability to read the vehicle computer and provides him with trouble codes, temps, and even psi. He even installed a 12V solutions remote starter with GPS tracker.
"THE MOST CHALLENGING PART FOR ME HAS TO BE NOT KNOWING WHEN TO STOP UPGRADING IT. NEXT I'M GOING TO CHANGE MY WHOLE SUSPENSION TO AN EXTENDED LONG TRAVEL SYSTEM."
Color Change Is Easy
Originally, the 4Runner came from the dealership in a factory white paint, but Mejia wanted a new look for his vehicle to help stand out and give it a bit of style. He selected Avery's Khaki Green satin wrap that was installed by Impeccable Wraps. The wrap is accented with a black stripe that extends over the TRD hood scoop and is complemented with smoked wrapped taillights.
One of the latest additions to the built-out rig was adding an Outer Tents Osprey hardshell roof top tent that can be opened quickly and effortlessly. The RTT itself shares a matching olive hue to the wrap to complete the look of the 4Runner. One perk of having an RTT for Mejia is seeing the enjoyment his 3-year-old son has while playing in his new "treehouse."
The opportunity to share moments with his son as he gets older and enjoys the off-road lifestyle make owning the rugged 4Runner well worth it. With a few epic trips in the books, including visiting the High Sierra, he plans on visiting more areas to hunt, discover hidden lakes for fishing, and simply enjoy the scenery and landscapes that they will encounter.
You can follow Daniel Mejia's adventures on Instagram @madpews.
Specs
Toyota 4Runner TRD Off-Road
Engine:
•4.0L V-6 4WD with a K&N air filter
•Borla exhaust
•Pedal Commander throttle response controller
Suspension:
•Icon Suspension Stage 6 system
Wheels & Tires:
•17-inch Method Race Wheels 106 Beadlock in Bronze
•315/70-17 Toyo Tires Open Country M/T
Interior Accessories:
•Alpine Electronics ILX 309 Halo 9
•Power Tank CO2
•ARB dual air compressor
Exterior Accessories:
•Avery Khaki Green satin wrap
•TRD hood scoop
•Baja Designs LP9, Squadron Pro, S2 Pro, S8 30-foot light bar, rock lights
•C4 Fabrication front bumper with side additions, differential skid plate •Brute Force rear bumper
•Southern Style Offroad rock sliders
•BudBuilt full under skid plates
•Gobi Rack
•Smittybilt 9500 winch
•Factor 55 ultra hook
•ARB TRED Pro recovery boards
•Pro Eagle Jack
•Outer Tents Osprey hardshell roof top tent
Editor's Note: A version of this article first appeared in the Winter 2020 print issue of YOTA Magazine.